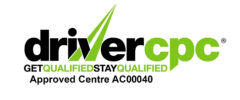 Driver CPC
The Driver Certificate of Professional Competence is for LGV and PCV drivers who drive professionally throughout Europe and has been a legal requirement under European Law since 2008/9.
The scheme aims to improve the knowledge and skills of professional drivers, with current legislation requiring them to undertake 35 hours of CPC qualifying training every 5 years.
Learn about the Driver CPC Training we offer, alongside our ALLMI Lorry Loader courses, or contact us for more information on our training and services.
Back to Accreditations